About The MKC
The Michigan Karst Conservancy, formed in 1983, is dedicated to the acquisition, management and protection of Michigan's significant karst areas and features, as well as scientific study and conservation education.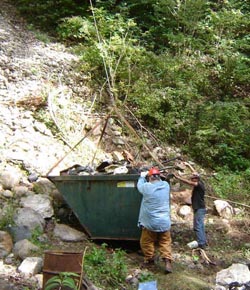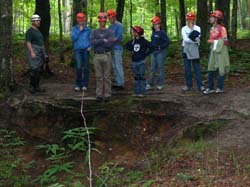 The nonprofit MKC owns two preserves and co-owns a third:
Fiborn Karst Preserve in Michigan's Upper Peninsula features an extensive karst drainage system with sinkholes, caves and disappearing streams. The MKC purchased 480 acres of the former limestone quarry and adjoining property in 1987. Conservancy members gather one weekend a month from May through October to maintain trails and perform other management work, as well as conduct tours of Hendrie River Water Cave.
Thunder Bay Karst Preserve west of Alpena, purchased in 1990 and enlarged in 1996, consists of three units: Stevens Twin Sinks, Bruski Sink and Mystery Valley (see below). The 31-acre Stevens unit and 2.5-acre Bruski unit contain three sinks more than 90 feet deep whose floors are deep enough they create microclimates and plant habitats more typical of northern Canada than the lower peninsula of Michigan. Conservancy members have removed large amounts of trash from Bruski Sink and participated in other projects as part of the Northeast Michigan Karst Aquifer Protection Project. Members also meet one weekend a month in spring and summer for maintenance and management work.
Mystery Valley Karst Preserve and Nature Sanctuary, a 76-acre unit of the Thunder Bay Karst Preserve, is co-owned with the Michigan Nature Association, and features one of the largest known collapse valleys in the Great Lakes region, a lake alternatingly fed and drained by a sinkhole and several dramatic earth cracks. MKC members have developed and maintain nature trails as well as perform other maintenance work such as gating the preserve entrance.
In addition to management and maintenance, conservancy members conduct scientific research and educational programs at all three preserves, covering geology, hydrology, biology and history.
A board of trustees and elected officers govern the conservancy, and meets several times a year. MKC committees oversee management of preserves, pursue research projects and work to develop relationships with landowners whose properties contain karst features.
As a nonprofit organization, the MKC receives no government support and relies solely on members and the public for funding. Membership dues finance the conservancy's operating costs.
The conservancy accepts donations in many forms: cash, land suitable for preservation, or land or securities that may be sold to finance the MKC's preservation activities.
Membership
The MKC offers five levels of membership:
Individual Regular Member, with annual dues of $30;
Family Regular Member, with annual dues of $20 (Family Member must reside with Regular Member, family receives one set of publications);
Supporting Member, with annual dues of $60;
Life Member, one-time dues of $480;
Student Member, with annual dues of $12;
Institutional Member, for organizations, with annual dues of $36.
All except Student and Institutional members may hold office and chair committees. All except Student Members may vote to elect the Board of Trustees.
Members receive a regular newsletter and notices of meetings and programs.