Fiborn Karst Preserve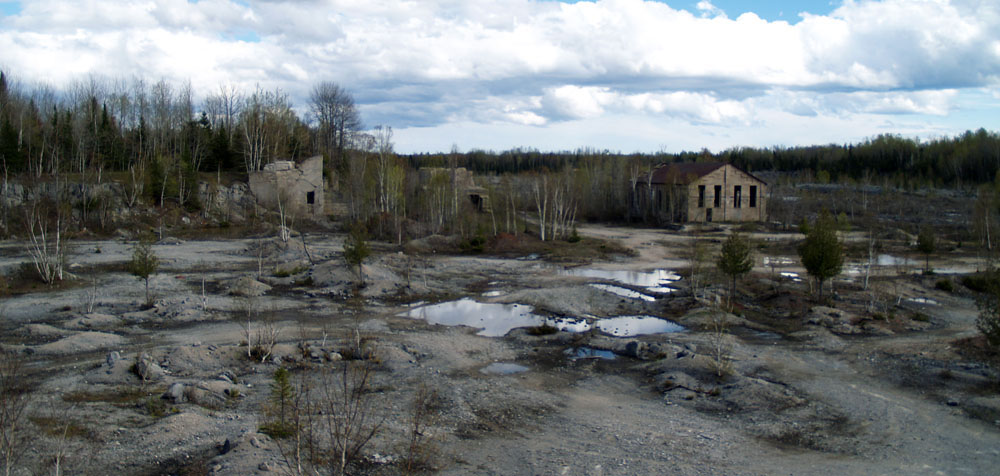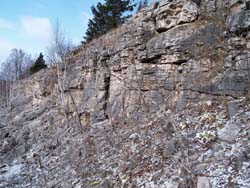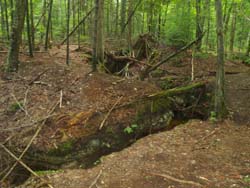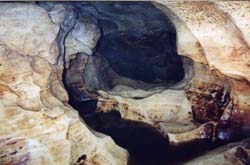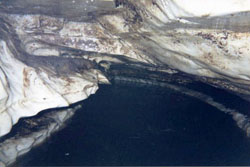 The 480-acre preserve, purchased by the MKC in 1987, was the site of a limestone quarry from 1905 to 1936 which supplied high-calcium limestone to Algoma Steel in Sault Ste. Marie, Ontario. (See the Fiborn Quarry History page for details.)
Remnants of the quarry still visible today include the railroad house and ore-car loader in the heart of the old quarry, foundations of employees' houses along Fiborn Quarry Road and the foundation of the boarding house.
The limestone outcrops throughout the preserve are part of the Niagara Escarpment, a band of resistant rocks (mostly Silurian dolomite) ringing Michigan's lower peninsula from the hills of Wisconsin's Dorr Peninsula through Michigan's upper peninsula to Ontario's Niagara Falls and beyond. The band was pushed up like the sides of a bowl as sediment and new rock collected in the Michigan Basin, forming the state's lower peninsula.
Karst features such as sinks, springs and caves were formed by water from swamps and streams south and west of the preserve dissolving limestone along joints and bedding planes in the escarpment as it drained underground toward Hendrie River to the north and east.
The conservancy manages the preserve as a natural area, open to the public under guidelines meant to prevent damage to natural features, vandalism and unsupervised, unsafe cave exploration. MKC volunteers gather once a month from May through October to perform maintenance and management work such as clearing and mowing trails, posting or repairing signs and occasionally cleaning graffiti in the quarry railroad house.
Two self-guided trails offer visitors a look at the geology and history of the area. The Sinkhole Trail is a short loop past many shallow sinkholes and a creek disappearing below ground. The 1.5-mile Barbara Ann Patrie Memorial Trail travels along the edge of the quarry, through second-growth forest and past sinks, and Fiborn Pond.
A major feature of the preserve is Hendrie River Water Cave, Michigan's longest known cave, with about 1,500 feet of mostly high, narrow passage with a stream running along the floor. As caves go, HRWC appears to be quite young, carved in the past 7,000-10,000 years since the last glaciers in the area melted. The cave "ends" and the stream sumps in a circular passage known as the Goop Loop. The stream resurges in a spring about a mile away. Lower passages of the cave are prone to flood after heavy rains.
Both the Little Brown Bat and Northern Long-eared Bat use the caves for swarming and hibernation, and MKC members are conducting ongoing studies of bats at Fiborn. The U.S. Fish and Wildlife Service intends to add the Northern Long-eared Bat to the federal list of endangered species and Hendrie River Water Cave is closed to visitors from mid-October to mid-May every year to avoid disturbing the bats.
Four other caves are known in the preserve, all small, wet and not suited for amateur explorers. One of them, Quarry Cave, is probably the remnant of a larger cave destroyed by quarry operations.